Today I'm happy to welcome Vince Aiello, author of Legion's Lawyers, to my notebook today. He's discussing on of his main characters.
The Genesis of Roger Legion
By Vince Aiello
When I first set out to create a character that would be the leader of a pre-eminent insurance defense law firm, I looked to my experience. There were great lawyers, there were fools, and there were incompetent lawyers that do a disservice to the profession. One thing that all the great lawyers possessed was that they were sociopaths. In the courtroom, they had flair and panache, but when they dealt with others, they were simply terrible people. They would yell and scream, make misogynistic jokes, and let you know that your life doesn't matter. What matters is billing the client and winning; either in the courtroom or through settlement.
What I wanted next was a man with a warrior mentality. Someone who had no problem with throwing a punch, no fear, and would be as much of a defender as he is a warrior. The courtroom is a battlefield. The goal is not to just win, it is to slay and destroy. As Roger Legion says in Legal Detriment, the novel where he is introduced, "When somebody comes up against a Legion lawyer, I want the experience seared in their memory, because they will regret it."
As with most great characters, he also had to be smart and have a great legal acumen. For a guy who writes legal thrillers, I am not a fan of courtroom drama. Yet, Roger Legion has never lost a case. He is evil, corrupt, and yet, there are glimpses of humanity that he shows, particularly to faithful employees. He is a realistic anti-hero.
Roger has now appeared in three of my novels and his dialogue writes itself. His lack of fear coupled with his legal skill makes him the type of lawyer anyone would want to hire and what all attorneys wish they could be. I am asked more questions about Roger Legion than any other aspect of my books. He is truly unique.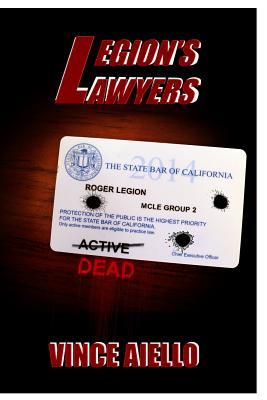 Legion's Lawyers by Vince Aiello
Published by Sareth Publishing on November 1, 2014
Genres: Legal Thriller
Pages: 298
Purchase at Bookshop.org
Add on Goodreads

Roger Legion, the head of a prestigious San Diego law firm, finds himself in the middle of a turf war between a Mexican drug cartel and a local gangster. When the cartel's attempt to persuade him fails, all hell breaks loose. It begins with an order to kill Legion and wipe out his entire law firm. The story weaves its way through a world of assassins, black ops, corrupt lawyers, female abduction, and a sick, violent, drug lord, who refers to his home as a palace. Legion must face the fact that at least one of his attorneys is conspiring with the cartel to assist in his demise. Someone trained by Roger Legion now wants him dead. But is it just one lawyer? Betrayal cannot be redeemed. All Legion knows is that the traitor is one of Legion's Lawyers.
Excerpt:
AMERICA'S FINEST CITY BUILDING, 24TH FLOOR
SAN DIEGO, CALIFORNIA
Time. To an attorney, it is a blessing and a curse. It is a unit of measurement that allows an hourly rate to appear less offensive when broken down into smaller pieces. It is key to success for research and the honing of an argument or pleading. When ignored, it has the ability to leave an attorney with nothing but malpractice. Its power is never fully appreciated.
Roger Legion sat at his desk in his corner office trying to capture every moment of every billing event of that day. After 38 years, billing time is almost second nature. You just have to make sure that your memory remains sharp and your ability to write must evidence that your 3 years of law school were not wasted.
Roger was in his mid-60s, nearly 6 feet tall, and if you didn't know his age, you would easily be persuaded to believe that he was 20 years younger. He had a full head of coifed, black hair that was accented by a band of gray. His suits were tailor-made with fine, Italian fabric and his executive, white shirt with gold cuff links underscored his position as the eminent leader of Legion and Associates, a premier insurance defense law firm. He wore custom-made ties of silk and his shoes were constructed of the finest, imported, Italian leather. His suit was more than a statement of success. He never removed his suit coat in the office. To Roger Legion, it was part of a uniform proudly worn by a warrior. The courtroom was an arena where the goal was annihilation, destruction, and carnage. Civility was left for the idealist lawyer, who never took a case to verdict. As Roger would often say at Legion and Associates, he taught his lawyers to weaponize the facts and then bludgeon their adversaries with them.
Legion would never advertise it, but he was a father figure to all of the 15 lawyers in the firm. He would tell them that no one stands alone at the firm. He would defend any of them, physically if necessary, if anyone dared to besmirch them or lay a hand on them. To his attorneys, he could be a caustic taskmaster. But he also possessed the qualities of a military leader, who was on the front lines with his men. They all knew that he would take a bullet for them and when he gave an order, it was never questioned, simply carried out regardless of right or wrong.
The America's Finest City Building was a downtown landmark. It was one of the newer skyscrapers, 30 stories high, and 2 blocks from the San Diego Bay. Legion's corner office on the 24th floor, consisted of 2 walls of floor to ceiling glass. The other walls were mahogany and covered with various photos and awards, testifying to a lifetime of success. His desk was grand and made of mahogany with burl inlay. It was not cluttered; it contained a flat screen monitor, a keyboard, the law firm's landline telephone, and his cell phone.
He considered clutter to be a reflection of what was going on in a person's mind. Roger considered himself a master in the art of reading people: jurors, opposing attorneys, judges, and anyone, as Roger would say, that could "fog a mirror." If he could not read a person, then he believed that they were laboring under a mental disease or defect.
Roger desisted from his task recapture exercise to peer out at the Pacific Ocean. The sun was in the process of setting and it displayed a magnificent panoply of colors. The sun's rays were muted by the skyscraper's tinted windows. Roger Legion never took anything for granted, including the San Diego weather.
For some reason, he noticed that the time display in the corner of his computer monitor exhibited '3:21 pm.' It was at that moment his cell phone came to life. He picked it up and the Caller ID simply stated 'UNAVAILABLE.' Normally, he would not have answered that type of call, but today would prove to be different on every level.
"Hello," Legion's baritone voice announced.
"Mr. Legion," answered a voice that he did not recognize. "In 2 minutes, a helicopter will land on the top of your building. The men inside that helicopter are coming to slaughter you and everyone in your law firm. Guide your actions accordingly."
"Who is this?" Legion asked with rushed, serious articulation. Before he could finish his sentence, the call was disconnected. Legion's mind scrambled to comprehend the caller's message as he glanced out the window.
Legion suddenly stood from his chair with his countenance displaying bewildered awe. From the south heading north, in the distance, he saw a Bell 429 Global Ranger helicopter. This helicopter was large enough to hold 8 people, including the pilot.
He knew that everyone at the law firm was now in danger. Roger tore out of his office like a Kenyan sprinter. Time was about to challenge Roger Legion.