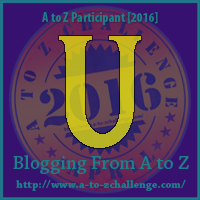 Welcome to today's post for the A to Z Blogging Challenge. For each day, I'll be sharing the opening paragraphs to a book that starts with that letter and is sitting on my shelves or my Kindle.
Under the Black Flag by David Cordingly


Wooden Legs and Parrots

Robert Louis Stevenson was thirty years old when he began writing Treasure Island. It was his first success as a novelist, and although Dr. Jekyll and Mr. Hyde and The Master of Ballantrae are considered finer works by many critics, it is the book with which his name in indelibly associated. The first fifteen chapters were written at Braemar among the Scottish Mountains in August and September 1881. The late summer weather was atrocious, and Stevenson and his family huddled around the fire in Miss Mcgregor's cottage while the wind howled down the Dee valley and the rain beat on the windows. There were five of them staying there: Stevenson's parents, his American wife, Fanny, and her twelve-year-old son, Lloyd Osbourne, who was Stevenson's stepson. To pass the time, Lloyd painted pictures with a shilling box of watercolors. One afternoon Stevenson joined him and drew a map of an island. He was soon adding names to the various hills and inlets. Lloyd later wrote, "I shall never forget the thrill of Skeleton Island, Spyglass Hill, nor the heart-stirring climax of the three red crosses! And the greater climax still when he wrote down the words 'Treasure Island' at the top right-hand corner! And he seemed to know so much about it too — the pirates, the buried treasure, the man who had been marooned on the island." In an essay which he wrote in the last year of his life, Stevenson revealed how the future character of the book began to appear to him as he studied the map. It was to be all about buccaneers, and a mutiny, and a fine old Squire called Trelawney, and a sea cook with one leg, and a sea song with the chorus "Yo-ho-ho and a bottle of rum."

Within three days he had written three chapters, and as he wrote each chapter he read it out to the family, who, apart from Fanny, were delighted with the results and added their own suggestions. Lloyd insisted that there should be no women in the story. Stevenson's father devised the contents of Billy Bones' sea chest, and suggested the scene where Jim Hawkins hides in the apple barrel. During the course of the next two weeks Stevenson had a visit from Dr. Alexander Japp, who was equally enthusiastic and took the early chapters along to the editor of Young Folks magazine. He agreed to publish the story in weekly installments, but after fifteen chapters, Stevenson abruptly ran out of inspiration and could write no more. The holiday in Scotland came to an end, and he moved south to Weybridge, where he corrected the proofs of the early chapters and despaired at what still remained to be done. Stevenson was the victim all his life of a chronic bronchial condition which racked him with coughing fits and hemorrhages. These frequently threatened his life and led to constant travels in search of a healing climate. He had not been well in Scotland, and it was therefore planned that he should pass the winter with Fanny and Lloyd at Davos in Switzerland. They traveled there in October, and the change of scene worked wonders. "Arrived at my destination, down I sat one morning to the unfinished tale; and behold! it flowed from me like small talk; and in a second tide of delighted industry, and again at a rate of a chapter a day, I finished Treasure Island."
So, what do you think? Read it soon or give it a pass?