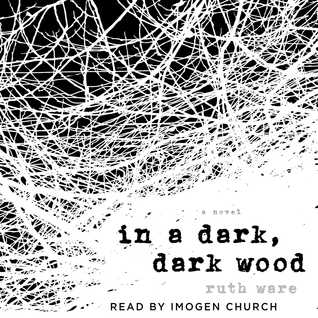 In a Dark, Dark Wood
by
Ruth Ware
Narrator:
Imogen Church
Published by
Simon & Schuster Audio
on August 4, 2015
Genres:
Psychological Thriller
,
Mystery
Length:
9 hrs 34 mins
Format:
Audiobook
Purchase at
Bookshop.org
or Purchase at
Amazon
Add on
Goodreads
What should be a cozy and fun-filled weekend deep in the English countryside takes a sinister turn in Ruth Ware's suspenseful, compulsive, and darkly twisted psychological thriller.

Leonora, known to some as Lee and others as Nora, is a reclusive crime writer, unwilling to leave her "nest" of an apartment unless it is absolutely necessary. When a friend she hasn't seen or spoken to in years unexpectedly invites Nora (Lee?) to a weekend away in an eerie glass house deep in the English countryside, she reluctantly agrees to make the trip. Forty-eight hours later, she wakes up in a hospital bed injured but alive, with the knowledge that someone is dead. Wondering not "what happened?" but "what have I done?", Nora (Lee?) tries to piece together the events of the past weekend. Working to uncover secrets, reveal motives, and find answers, Nora (Lee?) must revisit parts of herself that she would much rather leave buried where they belong: in the past.
Did you read the blurb above? It sounds really good, doesn't it? First off, i like house party murder mysteries, so the glass house in the middle of the woods with a small cast of characters appealed to me. Add an unreliable narrator and secrets of the past and it should have been a winner. Unfortunately, all the characters were annoying and juvenile and the big surprise wasn't that surprising. I didn't care about Nora and found her agreement to go to the party unlikely. Add in her obsession with a high school boyfriend character and she was just a pretty sad character who I didn't relate to or sympathize. Actually, I was hoping for a final twist that took into account her knowledge from crime writing, but no, she just puts herself in a dangerous position alone with the killer like so many amateur female detectives. Really, when will they learn to at least tell someone where they're going?
I listened to the audio version and Church, the narrator, fit the whole British feel of the novel almost too well. The slang and the accent were just a bit grating, made me want to tell the characters to stop trying to be cool and act like normal, sane adults. Or not sane, depending.
Ware did a good job of with the setting and kept the suspense throughout the story, and some of her turns of phrase were just perfect. I think she's an author worth giving another chance, even if this book had problems.
I have read some glowing reviews, so don't just rely on my take.