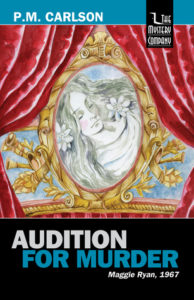 Audition for Murder
by
P.M. Carlson
Series:
Maggie Ryan #1
Published by
Mystery Company
on September 28, 2012 (first published May 1985)
Genres:
Mystery
Pages:
236
Purchase at
Bookshop.org
Add on
Goodreads
Nick and Lisette O'Connor need a change. They leave New York City for a semester as artists-in-residence at a college upstate, professional leads in a campus production of Hamlet. Threats and accidents follow Lisette, and Nick worries it might be more than just petty jealousy. Maggie Ryan, a student running lights for the show, helps investigate a mystery steeped in the turmoil of 1967 America.
Hear More About AUDITION FOR MURDER:
Read an excerpt:
Lisette stumbled on the way to the car, and Nick caught her elbow to steady her. Rob had unlocked the back door, and Nick helped her in while Rob let Maggie into the front passenger seat and then went around to the driver's side. There were a few snowflakes blowing in the wind, and his pale hair licked about his forehead like little flames. He sat down, closed the door, and stared at the wheel a minute.
"God," he said. "I'm stoned. A little."
"Do you want someone else to drive?" asked Maggie.
"No. I'll be fine." He raised a dramatic finger and declaimed, "Good wine is a good familiar creature if it be well used."
"Every inordinate cup is unblessed," countered Nick, who had maybe had a drop too much himself.
"I'll be extremely careful," Rob promised. He turned the key and started out of the lot. Lisette lurched against Nick as they rounded the corner onto the highway.
"Are you okay?" he asked.
"Very tired," she said.
Nick tipped her chin up and studied her a minute in the headlights of the car behind them. "You look bad," he said, concerned. He could see her honey-brown eyes in the wavering light. The pupils were tiny. "Do you feel sick?"
"M'all right," she said. The eyes closed. Nick leaned forward.
"Rob, she looks bad.. Could we get her to a hospital, do you think?" Maggie turned to look at Lisette.
"She says she's all right," objected Rob. "Are you sick, Lisette?"
She made an effort. "Just tired. Bed."
"I'll just take you home," said Rob soothingly.
"Home," murmured Lisette. Her cheek was cold and damp. Nick felt panic rising.
"Rob, please!" he said.
"Come on, Nick," said Rob. He had stopped at a stoplight, and turned to look back at them, the red glow making his hair shine like embers. "The hospital is miles away, and she says she's just tired. I believe her. I'm tired too."
"Nick's right," said Maggie suddenly. "She's not just tired."
"Jus' tired," repeated Lisette.
"See?" said Rob. "You two alarmists are interfering with her rest."
Maggie leaned across Rob, switched off the ignition with one hand, and opened his door with the other. "Out, Rob," she said.
"What?"
"Out. Get out. Now."
"You're crazy!" He stared at her unbelievingly. The light blinked to green.
"Sorry, kid," she said, leaning back against her door and placing an elegant French boot, still muddy, against his thigh.
"My God! My coat!" Shocked, he flinched away from the boot. She shoved, and he suddenly found himself outside, arms flailing for balance. Maggie slid smoothly into the driver's seat and turned the ignition. The car moved forward and left Rob on the pavement, staggering. When they were clear of him Maggie pulled the door closed and made a rapid U-turn, then pressed the accelerator. The car vaulted up the hill toward the hospital.
By the time they had run their third red light, a patrol car was chasing them. Lisette was slumped against Nick, and he braced himself to keep them both from ricocheting around the back seat as Maggie traced a complex, competent line through the other traffic. He was dimly aware of the flashing lights from behind intersecting the rapid flow of the light from street lamps. She did not slow, and the sirens and lights behind them got other traffic out of the way. When she turned into the hospital driveway the patrol car seemed to relax a little. She skidded to a halt in front of the emergency room and was out opening Nick's door instantly.
"Need help?"
"She's not heavy," he said. Lisette was unconscious.
"I'll follow when I've talked to the officers." She made sure the emergency door was open and then walked toward the patrol car. Nick carried the limp body into the emergency room.
Excerpt from Audition for Murder by P.M. Carlson. Copyright © 2017 by P.M. Carlson. Reproduced with permission from P.M. Carlson. All rights reserved.
Giveaway:
This is a rafflecopter giveaway hosted by Partners in Crime Virtual Book Tours for P.M. Carlson. There will be 1 winner of one (1) Amazon.com Gift Card. The giveaway begins on August 1 and runs through August 8, 2017.
a Rafflecopter giveaway

Tour Participants:
Visit the other stops on this tour!