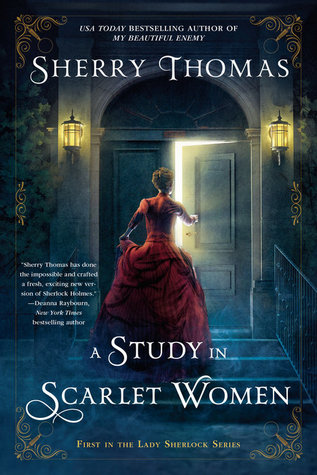 A Study in Scarlet Women
by
Sherry Thomas
Narrator:
Kate Reading
Series:
Lady Sherlock #1
Published by
Blackstone Audio
,
Inc.
on October 18, 2016
Source:
Audible Plus
Genres:
Historical Mystery
Length:
11 hrs
Pages:
323
Format:
Audiobook
Purchase at
Bookshop.org
or Purchase at
Amazon
Add on
Goodreads
With her inquisitive mind, Charlotte Holmes has never felt comfortable with the demureness expected of the fairer sex in upper class society. But even she never thought that she would become a social pariah, an outcast fending for herself on the mean streets of London.

When the city is struck by a trio of unexpected deaths and suspicion falls on her sister and her father, Charlotte is desperate to find the true culprits and clear the family name. She'll have help from friends new and old—a kind-hearted widow, a police inspector, and a man who has long loved her.

But in the end, it will be up to Charlotte, under the assumed name Sherlock Holmes, to challenge society's expectations and match wits against an unseen mastermind.
I have a tendency to read most Holmes knock-offs I come across. A Study in Scarlet Women was free with Audible's new Plus program.
Sherlock is actually Charlotte Holmes. Charlotte is socially awkward, but , of course, incredibly observant and intelligent. She creates Sherlock so she is allowed to solve mysteries and problems. Women at the time are not expected to be able to manage on their own, let alone to be smarted than the police. I like that Charlotte makes her own choices and is trying to live life on her own terms. She teams up with Mrs. Watson, a widow who used to be on stage, to set up the whole "consulting detective" business/Sherlock deception. I do love both of these women, tough, independent, but also vulnerable in their own ways.
This time, the main mystery centers on three deaths, supposedly natural connections, but Charlotte knows they are related murders. And proving who the killer was matters, if only to take the suspicions off her family.
We have a bit of a love interest for Charlotte. Lord Ingram is a man she's known, and loved, most of her life, but he's married – to a woman who doesn't love him. He does watch over her, which is both nice and annoying. I'm hoping for some resolution in this relationship, not a dragging on of "they can't be together but should be."
The mystery was well-done and kept me guessing. I'm looking forward to reading the next in the series.