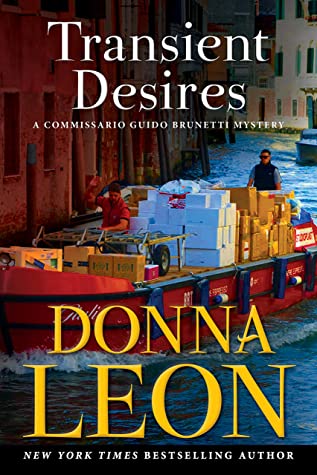 Transient Desires
by
Donna Leon
Series:
Commissario Brunetti #30
Published by
Atlantic Monthly Press
on March 9, 2021
Source:
NetGalley
Genres:
Mystery
Pages:
288
Format:
eARC
Purchase at
Bookshop.org
or Purchase at
Amazon
Add on
Goodreads
In his many years as a commissario, Guido Brunetti has seen all manner of crime and known intuitively how to navigate the various pathways in his native city, Venice, to discover the person responsible. Now, in Transient Desires, the thirtieth novel in Donna Leon's masterful series, he faces a heinous crime committed outside his jurisdiction. He is drawn in innocently enough: two young American women have been badly injured in a boating accident, joy riding in the Laguna with two young Italians. However, Brunetti's curiosity is aroused by the behavior of the young men, who abandoned the victims after taking them to the hospital. If the injuries were the result of an accident, why did they want to avoid association with it?

As Brunetti and his colleague, Claudia Griffoni, investigate the incident, they discover that one of the young men works for a man rumored to be involved in more sinister nighttime activities in the Laguna. To get to the bottom of what proves to be a gut-wrenching case, Brunetti needs to enlist the help of both the Carabinieri and the Guardia di Costiera. Determining how much trust he and Griffoni can put in these unfamiliar colleagues adds to the difficulty of solving a peculiarly horrible crime whose perpetrators are technologically brilliant and ruthlessly organized.

Donna Leon's Transient Desires is as powerful as any novel she has written, testing Brunetti to his limits and forcing him to listen very carefully for the truth.
Leon's Commissario Brunetti series is an easy one to jump in and out of. Each book stands alone well. Yes, reading them in order would probably give you a fuller picture of how the characters change, or don't change, over time, and let you meet new characters when they're introduced. I don't feel like I've missed much by skipping around.
As always, Transient Desires take place in Venice. The city is almost a character in and of itself. The city is full of both beautiful, old architecture and dark, dangerous alleys. It relies on tourism, but Venetians are contemptuous of the tourists. The picture of Venice is very vivid, which is a part of this series that I always enjoy.
This time, the mystery starts with two young American women left severely injured outside a hospital. Finding out who the men were that dropped them off is easy enough, but leads to a much bigger situation, one that requires cooperation among law enforcement agencies. There is often social commentary and contemporary issues in the Brunetti books, and this one is no exception, Brunetti is not solving puzzles in a bubble, the politics, social structures, prejudices, and other crimes all affect his investigations.
My one complaint is that the book ended rather abruptly. I could do with a little more wrapping up. Other than that, it was an enjoyable book. The plot kept moving, the characters feel real, and visiting Venice is always a treat.