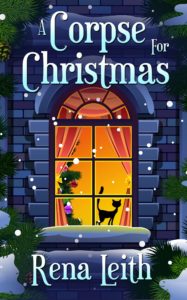 A Corpse for Christmas
by
Rena Leith
Series:
Cass Peake #3
Published by
The Wild Rose Press
on November 30, 2021
Source:
NetGalley
Genres:
Cozy Mystery
Pages:
208
Format:
eARC
Purchase at
Bookshop.org
Add on
Goodreads
Cass Peake's web design company accepts a job to bolster the local college's efforts in attracting new students. With the winter break, she and her colleagues expect a very quiet campus. What they don't anticipate is the reunion of a strange secret society called The Black Triangle Club on the grounds… and a dead body. Then corpses start piling up like gifts under a Christmas tree. Coincidence or not?

With the help of her ghostly friend Doris and other allies, Cass works frantically to uncover the real killer. But it might take a real holiday miracle to solve this Yuletide mystery.
A Corpse for Christmas is the third in the Cass Peake series, but the first I've read. For me, it took a while to get all the characters straight, and I think if I had read the series in order, that wouldn't have been an issue. I also would have felt like I knew at least Cass and the other recurring characters, including Doris the ghost, better.
Cass takes on the job of doing a new video for a local college and hires some young people to help her out. It's the holidays so the campus is pretty empty, making it easier to film locations, but while working, Cass and her crew stumble onto a murder. Her obligatory cop boyfriend, George, doesn't like her getting involved, but Cass of course can't let it go, especially when a neighbor asks for her help.
There's a lot going on here. We have the project for the local college; it's Christmas so Cass' brother and sister-in-law are staying with her; there's the secret club and their reunion; and a ghost lives in her house. There were a couple of clues and lots of red herrings.
I did enjoy the book overall. It was fun and quirky, with good characters and an oceanside setting.