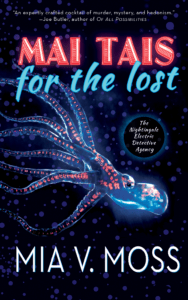 Mai Tais for the Lost
by
Mia V. Moss
Published by
Underland Press
on July 12, 2022
Genres:
Mystery
,
Science Fiction
Pages:
106
Format:
eARC
Purchase at
Bookshop.org
Add on
Goodreads
Marrow Nightingale is a professional pain in the ass. As Electric Blue Moon's only licensed private investigator, she's the one who snoops the closets of the elite who think the laws don't apply to them. But when the son of a wealthy family turns up dead, it's Marrow's closet that everyone is suddenly interested in. That dead playboy in the foyer? It's her adoptive sibling, Rocket Nightingale.

Now, Marrow's dodging gossip columnists who smell blood in the water, renegade corporate IP with minds of their own, and badge-wearing bone-breakers who would love nothing more than to ship her back to the surface.

Which is still on fire, thank you very much.

If Marrow can't catch the killer, this case is going to sink the Nightingale Electric Detective Agency.

Welcome to the city under the sea, an old-money refuge for the environmentally ravaged. Where humanity is trying to forget its past with ink-stained cocktails, designer drugs, and genetic modifications. Where Marrow Nightingale may be the last honest scoundrel.
I absolutely love the world Moss created in Mai Tais for the Lost. All those who could, mostly the rich, have left the surface of Earth for underwater habitats. Life, at least for the lucky, is full of parties, designer drugs, and alcohol. Of course, they also brought with them security/ law enforcement and people to do the menial tasks of life, like cleaning. Marrow Nightingale was once one of the lower classes, but through a quirk of fate, was adopted by the rich and famous Nightingales. She drinks and parties with the upper classes, but isn't at heart one of them. She is, however, the only private detective in Electric Blue Moon and her brother has been murdered.
Marrow is a tough young woman, both overly trusting and cynical. She's definitely an alcoholic and one of those detectives who rub those in authority the wrong way. Mai Tais for the Lost is basically noir with a sci-fi backdrop and a lot of neon. Marrow's search for the truth leads us through a world of corporately-owned androids, secret clambakes, and missing bodies. The stakes are high, both to find the killer and to avoid being deported. The reveal made sense, but was still surprising.
I thoroughly enjoyed this one and hope their will be more stories featuring the Nightingale Electric Detective Agency.