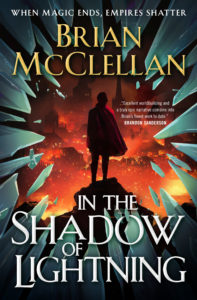 In the Shadow of Lightning
by
Brian McClellan
Narrator:
Damian Lynch
Series:
Glass Immortals #1
Published by
Macmillan Audio
on June 21, 2022
Source:
Library
Genres:
Epic Fantasy
Length:
24 hrs 53 mins
Pages:
576
Format:
Audiobook
Purchase at
Bookshop.org
or
Audible
Add on
Goodreads
From Brian McClellan, author of The Powder Mage trilogy, comes the first novel in the Glass Immortals series, In the Shadow of Lightning, an epic fantasy where magic is a finite resource—and it's running out.

Demir Grappo is an outcast—he fled a life of wealth and power, abandoning his responsibilities as a general, a governor, and a son. Now he will live out his days as a grifter, rootless, and alone. But when his mother is brutally murdered, Demir must return from exile to claim his seat at the head of the family and uncover the truth that got her killed: the very power that keeps civilization turning, godglass, is running out.

Now, Demir must find allies, old friends and rivals alike, confront the powerful guild-families who are only interested in making the most of the scraps left at the table and uncover the invisible hand that threatens the Empire. A war is coming, a war unlike any other. And Demir and his ragtag group of outcasts are the only thing that stands in the way of the end of life as the world knows it.
In the Shadow of Lightning started with a powerful prologue, a battle scene that introduces our main character, Demir Grappo, and gives us insight into both his personality and his power. Then we skip nine years. Demir's mother has been killed and as her heir, he returns to the city to take the reigns of the family and to find out who ordered the attack. And there's a war going on, sparked by his mother's assassination.
The magic is based on godglass. Different types of glass can give people enhanced abilities or cause restrictions. Wit glass for example makes one think quicker while shackle glass will allow the wearer to only tell the truth. Most everyone can use the glass, although there are some who are immune to its effects. I like that about the magic, everyone has access – if you can afford it. There are also glassdancers who can manipulate plain glass, mostly using shards of it to kill people. This is a military/political fantasy book after all and glassdancers are an integral part of the armies.
I admit I loved the characters. None of them are new or original, but I adored them. We have Demir, our flawed hero who has to learn to trust himself. Thessa is a glass worker who has been ripped out of her comfortable life by the war, but she's smart and resourceful. Baby Montego is perhaps the best killer in the world, a cudgeling champion who is also loyal and caring. Idrian is also quite the killer, but he is in the military, and also has a heart of gold. And Kizzie is awesome, a childhood friend of Dermir who is trying to help solve the mystery and may be in way over her head.
The book is full of military fights, political intrigues, and a touch of romance. And then the monsters show up.