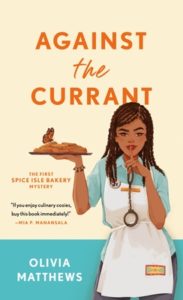 Against the Currant
by
Olivia Matthews
Narrator:
Janina Edwards
Series:
Spice Isle Bakery Mystery #1
Published by
Dreamscape Media
on February 9, 2023
Source:
NetGalley
Genres:
Cozy Mystery
Length:
7 hrs 35 mins
Pages:
304
Format:
Audiobook
Purchase at
Bookshop.org
or
Audible
Add on
Goodreads
In Olivia Matthews's Against the Currant, the first Spice Isle Bakery Mystery, investigating a murder was never supposed to be on the menu…

Little Caribbean, Brooklyn, New York: Lyndsay Murray is opening Spice Isle Bakery with her family, and it's everything she's ever wanted. The West Indian bakery is her way to give back to the community she loves, stay connected to her Grenadian roots, and work side-by-side with her family. The only thing getting a rise out of Lyndsay is Claudio Fabrizi, a disgruntled fellow bakery owner who does not want any competition.

On opening day, he comes into the bakery threatening to shut them down. Fed up, Lyndsay takes him to task in front of what seems to be the whole neighborhood. So when Claudio turns up dead a day later—murdered—Lyndsay is unfortunately the prime suspect. To get the scent of suspicion off her and her bakery, Lyndsay has to prove she's innocent—under the watchful eyes of her overprotective brother, anxious parents, and meddlesome extended family—what could go wrong?
Against the Currant is the first in a new cozy mystery series set in a newly opened Caribbean bakery. Lyndsay Murray's dream has always been to open a bakery/eatery featuring food and recipes from Grenada where her family came from. It's finally opening day and everything is going wonderfully until in storms Claudio Febrizi, another local baker who does not want any competition. He causes a scene in front of a bakery full of customers and Lyndsay ends up arguing with him and asking him not so nicely to leave. When Claudio turns up dead the next day, Lindsay finds herself as the number one suspect.
Lyndsay and her family are close and it was nice to see their connection and how supportive they are to each other both in work and in their personal lives. We get a sense of family, but of community too. We see how the community can band together to support local businesses and culture.
I loved the bakery setting. Yes, it's not exactly unique for a cozy, but the food sounded so delicious!! I think I'm going to try to make the currant rolls. There's a recipe for them in the back of the book, but I listened to the audio, so don't have a printed copy. I did find a similar recipe at CaribbeanPot.com.
Lyndsay is a good lead. She's determined to make the bakery a success. She also kickboxes to stay in shape – a skill that may come in handy as an amateur sleuth. I could have done without her dwelling on how she was treated in school though, how timid she was and how she always got bullied. She's 27-ish, has 14 years of kickboxing under her belt and is running a business – it's time to let go of high school.
The mystery was put together well. It makes sense that Lyndsay has to investigate – it seems the cops really aren't looking at anyone except her. I don't know why the cops settled on her so quickly when Claudio was so disliked by so many people.
I listened to the audio, which worked well for me. I can't really comment on the narrator's accents, but she read at a good pace and differentiated the characters well.
Overall this was a fun one and I enjoyed the introduction to West Indies food and culture. I'll be looking forward to the next in the series.
Reading this book contributed to these challenges: