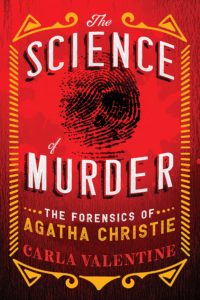 The Science of Murder: The Forensics of Agatha Christie
by
Carla Valentine
Narrator:
Helen Langford
Published by
Tantor Audio
on May 31, 2022
Source:
Purchased
Genres:
Science
,
True Crime
Length:
10 hrs 25 mins
Pages:
432
Format:
Audiobook
Purchase at
Bookshop.org
or
Audible
Add on
Goodreads
Discover the science of forensics through Agatha Christie's novels

Agatha Christie is the bestselling novelist of all time, and nearly every story she ever wrote involves one―or, more commonly, several―dead bodies. And the cause of death, the motives behind violent crimes, the clues that inevitably are left behind, and the people who put the pieces together to solve the mystery invite the reader to analyze the evidence and race to find the answer before the detective does. Nearly every step of the way, Christie outlines the nuts and bolts of early 20th-century crime detection, relying on physical evidence to tell the real story behind the facades humans erect to escape detection.

Christie wouldn't have talked of "forensics" as it is understood today―most of her work predates the modern developments of forensics science―but in each tale she harnesses the power of human observation, ingenuity, and scientific developments of the era. A fascinating, science-based deep dive, The Science of Murder examines the use of fingerprints, firearms, handwriting, blood spatter analysis, toxicology, and more in Christie's beloved works.
I am a huge Agatha Christie and read a ton of mysteries, so I couldn't pass up The Science of Murder. The author, Carla Valentine, is a forensic pathology technician and the curator of Barts Pathology Museum in London. She also clearly loves Agatha Christie's work. The book is a fascinating look at the forensics behind Christie's mysteries and examples from real crimes of the past.
The Science of Murder moves through eight chapters that focus on various areas of forensic study like fingerprints, trace evidence, ballistics, handwriting, impressions, blood splatter, and toxicology. While discussing the technical side of gathering and studying these types of evidence, we also get details from Christie's books and her real life. The author talks about some of Christie's most famous plots, without giving too much away. We also learn about Christie's wartime occupations, memberships in murder mystery writer clubs, and work on her second husband's archeological digs. We also get details about modern forensics and how the science has evolved over time.
I listened to the audio which fit the chatty writing style well. Yes, we get a lot of details and in-depth descriptions, but it's easy to follow and understand. I guess the print version has some illustrations and charts that I missed out on. I may have to pick up the paperback when it comes out.
Reading this book contributed to these challenges: