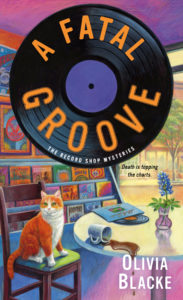 A Fatal Groove
by
Olivia Blacke
Narrator:
Nicol Zanzarella
Series:
Record Shop Mystery #2
Published by
Tantor Audio
on July 25, 2023
Source:
Purchased
Genres:
Cozy Mystery
Length:
8 hrs 36 mins
Pages:
304
Format:
Audiobook
Purchase at
Bookshop.org
or
Audible
Add on
Goodreads
Catching a killer without skipping a beat.

It's springtime in Cedar River, Texas. The annual Bluebonnet Festival is brewing and the whole town is in harmony. Juni Jessup and her sisters Tansy and Maggie thought opening Sip & Spin Records was going to be their biggest hurdle, but the Frappuccino hits the fan when the mayor drops dead―poisoned by their delicious coffee.

Since Tansy was the one to brew the coffee, and Juni was the unfortunate citizen who stumbled upon the mayor's body, the sisters find themselves in hot water. Family is everything to the Jessups, so with Tansy under suspicion, the sisters spring into action.

Between the town festivities, a good old-fashioned treasure hunt, and an accidental cow in the mix, Juni will have to pull out all the stops to find the mayor's killer.
This second Record Shop Mystery is a fun, breezy, cozy mystery read. In the first book, we met Juni and her sister, Maggie and Tansy who have opened a record album/ coffee chop is Cedar River, Texas. This time around the mayor has been murdered and of course the Jessup sisters are in the thick of it. Tansy is the one who brewed the coffee that killed him and Juni is the one who discovered the body.
I like the sisters. They support each other, but can also be a bit snarky. Their family and friends are well-developed too. And of course, we get a couple of cute animals, including a cow.
The mystery itself is good. I did guess who the killer was, but there were plenty of red herrings for distraction. The treasure hunt side plot was a nice addition.
Reading this book contributed to these challenges: