With winter just around the corner, I was trying to think of some seasonal games. Unfortunately we don't have any in our collection. I did find a couple that look fun for families, though. Of course, on a day when it's too cold or mucky to go outside, any board game is great.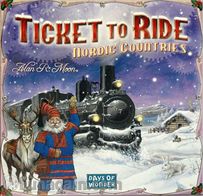 A while back I posted about Ticket to Ride, which is a fun family game. Well, here's a snowier version.
Ticket to Ride: Nordic Countries
Designer: Alan R Moon
Manufacturer: Days of Wonder
Artist: Julien Delval
Year: 2008
Players: 2 – 3
Time: 30 – 60 minutes
Ages: 8 and up
Ticket to Ride: Nordic Countries takes you on a Nordic adventure through Denmark, Finland, Norway and Sweden as you travel to the great northern cities of Copenhagen, Oslo, Helsinki and Stockholm. Visit Norway's beautiful fjords and the magnificent mountain scenery on the Rauma Railway. Breathe in the salt air of the busy Swedish ports on the Baltic Sea. Ride through the Danish countryside where Vikings once walked. Hop on the Finnish railway and travel across the Arctic Circle to the land of the Midnight Sun.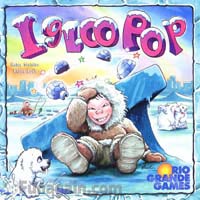 This one looks silly, but all the reviews I've seen have been good. I'm kinda hoping Santa drops it off at our house.
Designers: Heinz Meister, Klaus Zoch
Manufacturer: Rio Grande Games
Artists: Victor Boden
Year: 2003
Players: 2 – 6
Time: 15 – 20 minutes
Ages: 7 and up
The young ice giant has a big problem: he wants to buy fish sticks, but he cannot remember how many and he has nine shopping lists in his basket. So he goes from igloo to igloo and shakes each. In each he listens to the delicious fish sticks bouncing off the igloo walls. When he thinks that the igloo in his hand has the same number of fish sticks as one of his shopping lists, he takes it home. When he gets home, there are no fish sticks in the igloo. Instead, wild and laughing Eskimo children tumble out of the igloo. Excitedly they shout, "Shake us again! That was great fun!" "This is super", thinks the young ice giant. "Now, I have found some new friends to play with!" And, he promptly forgets all about his shopping lists.