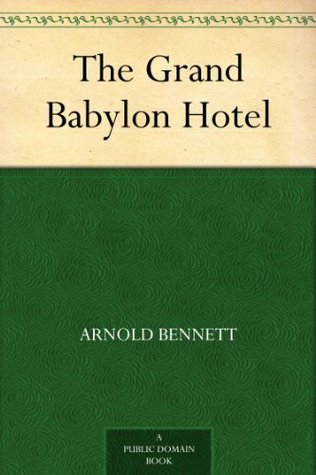 The Grand Babylon Hotel
by
Arnold Bennett
Published by
Amazon Digital Services
,
Inc.
on May 16, 2012 (first published 1902)
Genres:
Vintage Mystery
Pages:
219
Format:
eBook
Purchase at
Bookshop.org
Add on
Goodreads
The Grand Babylon Hotel is an exclusive London establishment, and American millionaire Theodore Racksole, visiting the hotel with his spirited 23-year-old daughter Nella, decides to buy the place. What he hasn't counted on is having to deal with a criminal conspiracy whose purposes are not at all clear, and events take an unexpected turn as Theodore and Nella play detective. Replete with evil villains, physical dangers, and secret passages, The Grand Babylon Hotel is a mesmerizing thriller that will be enjoyed by mystery lovers everywhere.
I love vintage mysteries, a bit old-fashioned, no gratuitous sex or violence. They're comfort reads for me. I read a short story by Arnold Bennett in Resorting to Murder from Poisoned Pen Press and enjoyed it, so I picked up the free Kindle version of The Grand Babylon Hotel and I'm glad I did. It's a light mystery, but full of intrigue and adventure and a plucky young woman who's not afraid of a bit of danger.
The hotel was an interesting setting. The Babylon is a quite distinguished hotel and often hosts royalty, which is what leads to the sequence of events here. An equerry (an officer of a royal household who attends or assists members of the royal family) is found murdered. His body disappears. A prince fails to arrive for an important meeting in the hotel.  Rackham learns that his stellar staff is perhaps not quite as above-board as they appear. The story is a bit over the top, but holds together well nonetheless. It's the kind of adventure that doesn't happen in modern mysteries. Well, that's not necessarily true- some aspects are quite similar to current stories I've read, particularly being kidnapped and held on a yacht, but a lot of the novel is definitely a product of its time.
Rackham is really quite a likeable millionaire. He's honest, not afraid of hard work, kind and has a bit of the adventurer about him. He also actually respects and trusts he daughter. Nella has clearly learned a lot from her father, both that taking risks is not a bad thing to do and that her father will give in to most, if not all, of her wants. Together, the two make a good amateur detective team. It's really a charming, clever story, and had me laughing out loud several times. He looks at everyone, millionaire and servant alike, in a rather jaded, slightly sarcastic way that amused me.
If you're a fan of mysteries of the era, read it if you get a chance.