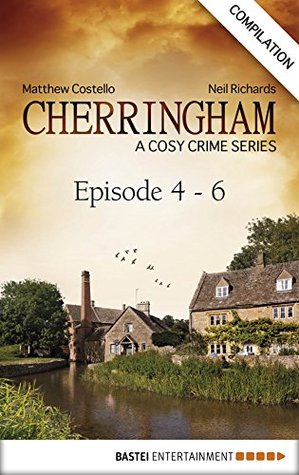 Cherringham #4-6
by
Matthew Costello
,
Neil Richards
Series:
Cherringham #4
,
#5
,
#6
Published by
Bastei Entertainment
on January 26, 2015
Source:
Purchased
Genres:
Episodic
,
Mystery
Pages:
307
Format:
eBook
Purchase at
Bookshop.org
or Purchase at
Amazon
Add on
Goodreads
Jack's a retired ex-cop from New York, seeking the simple life in Cherringham. Sarah's a Web designer who's moved back to the village find herself. But their lives are anything but quiet as the two team up to solve Cherringham's criminal mysteries.

-- This compilation contains episodes 4 - 6: THICK AS THIEVES, LAST TRAIN TO LONDON and THE CURSE OF MABB'S FARM. Here Jack and Sarah get caught up in a mysterious treasure hunt. They tease out the truth behind the town puppeteer's death, and they're threatened by the ancient curse of a local farm.

-- Cherringham is a serial novel à la Charles Dickens, with a new mystery thriller released each month. Set in the sleepy English village of Cherringham, the detective series brings together an unlikely sleuthing duo: English web designer Sarah and American ex-cop Jack. Thrilling and deadly - but with a spot of tea - it's like Rosamunde Pilcher meets Inspector Barnaby. Each of the self-contained episodes is a quick read for the morning commute, while waiting for the doctor, or when curling up with a hot cuppa.
I enjoyed this second collection of Cherringham novellas. Cherringham itself is a good setting, a typical small English town with its bar and bakery, its quirky townsfolk and always a murder or theft or something going on. Jack and Sarah make a good team. They are both smart and talented in their own ways. Jack is a former police detective and knows the ins and out of solving crimes. Questioning people comes naturally to Sarah and as at least a semi-local she knows a lot of people, she's also the one who does the computer research and occasional hacking.
In "Thick as Thieves," a potentially valuable artifact is found on a farm. It is put in a retired professor's safe but is stolen over night. Sarah had been covering the story of the artifact for the town's paper and is of course curious. Her computer skills definitely come in helpful here, as do Jack's stake out abilities. I can't say I was surprised by the thief.
"Last Train to London" was probably my least favorite of the three, even though it was still good. It probably had the best secondary characters: the woman who runs the local school, a jeweler/puppeteer, and a lady who owns a yarn shop. The puppeteer dies and someone steals a lot of his valuable puppets. The killer was not someone you could have picked out and the motive had more to do with the man's past than his present. There was a lot going on to fit in the 100 or so pages.
"The Curse of Mab's Farm" is destroying the life of a young family. Terrible things are happening at the farm, fires, dead animals, but the husband refuses help, even though the stress is clearly driving him in a dangerous direction. The local new age shop owner thinks she can help lift the curse, for enough money of course. Sarah and Jack want to help, but are not getting any cooperation. The person behind the events is of course discovered. It's a sadder story than most of the Cherringhams.
I am still happy that Jack and Sarah are close friends, no more no less. Jack is fitting in better, becoming accepted by the town. I love collections around holidays, whether they be mysteries or romance. I think with all the other stuff going on, it's easier to read in shorter pieces. And the holidays around here seem to last from mid- to late October through New Years, between Amber's break, Halloween, birthdays, Thanksgiving, etc.