Mailbox Monday is the gathering place for readers to share the books that came in their mailbox during the last week. Warning: Mailbox Monday can lead to envy, toppling TBR piles and humongous wish lists.
Tell us about your new arrivals by adding your Mailbox Monday post to the linky at mailboxmonday.wordpress.com.
The first was a freebie for Kindle when I grabbed it.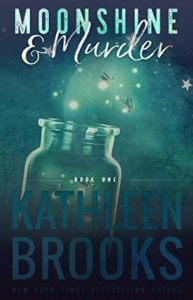 Moonshine & Murder
by
Kathleen Brooks
Series:
Moonshine Hollow #1
Published by
Laurens Publishing
on March 3, 2019
Source:
Freebie
Genres:
Mystery
,
Urban Fantasy
Pages:
106
Format:
eBook
Purchase at
Bookshop.org
Add on
Goodreads
Zoey Mathers had everything going for her until one night she lost her biggest client, her job, and her reputation. Leaving her life up to fate, Zoey closed her eyes and pointed. She would serve out her career exile in the small mountain town of Moonshine Hollow where moonshine flowed as freely as a mountain stream.

Giving up the law to become a baker in Moonshine Hollow turned out to be the best thing Zoey had ever done. She was happy and enjoying life in her new small town. But Zoey should have learned the first time . . . one night can change your whole life.

After unknowingly crashing a battle between witches, Zoey accidentally becomes a witch herself. That's all before Zoey stumbles over a murder victim and the town's sheriff becomes involved. Now she's trying to find a murderer, stop two old witches from playing matchmaker, and learning she's way more than a mere accidental witch.

And that's all before fate turns up one more sexy hunk of a twist . . .
And I picked up a couple from NetGalley because I have no self-control.
Theme Music
by
T. Marie Vandelly
Published by
Dutton Books
on July 23, 2019
Source:
NetGalley
Genres:
Thriller
Pages:
400
Format:
eARC
Purchase at
Bookshop.org
Add on
Goodreads
For the lucky among us, life is what you make of it, but for Dixie Wheeler, the theme music for her story was chosen by another long ago, on the day her father butchered her mother and brothers and then slashed a knife across his own throat. Only one-year-old Dixie was left alive, infamously known as Baby Blue for the song left playing in the aftermath of the slaughter.

Twenty-five years later, Dixie is still desperate for a connection to the family she can't remember, so when her childhood home goes up for sale, Dixie sets aside all reason and moves in, re-creating a macabre decor with her family's salvaged furniture. But as the ghosts of her family seemingly begin to take up residence in the home that was once theirs, Dixie starts to question her own sanity and wonders if the evil force menacing her is that of her father, or a demon of her own making.

In order to make sense of her present, Dixie becomes determined to unravel the truth of her past and seeks out the detective who originally investigated the murders. But the more she learns, the more she opens up the uncomfortable possibility that the sins of her father may belong to another, and, perhaps most tragically, to Dixie herself. As bodies begin to pile up around her, Dixie must find a way to expose the lunacy behind her family's massacre and redeem what little remains of her soul.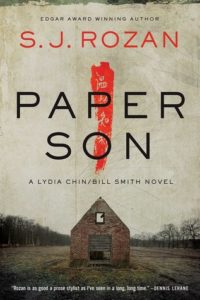 Paper Son
by
S. J. Rozan
Series:
Lydia Chin & Bill Smith #12
Published by
Pegasus Books
on July 2, 2019
Source:
NetGalley
Genres:
Mystery
Pages:
352
Format:
eARC
Purchase at
Bookshop.org
Add on
Goodreads
The Most Southern Place on Earth: that's what they call the Mississippi Delta. It's not a place Lydia Chin, an American-born Chinese private detective from Chinatown, NYC, ever thought she'd have reason to go. But when her mother tells her a cousin Lydia didn't know she had is in jail in Clarksdale, Mississippi—and that Lydia has to rush down south and get him out—Lydia finds herself rolling down Highway 61 with Bill Smith, her partner, behind the wheel.

From the river levees to the refinement of Oxford, from old cotton gins to new computer scams, Lydia soon finds that nothing in Mississippi is as she expected it to be. Including her cousin's legal troubles—or possibly even his innocence. Can she uncover the truth in a place more foreign to her than any she's ever seen?