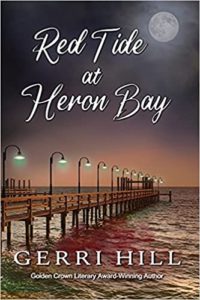 Red Tide at Heron Bay
by
Gerri Hill
Published by
Bella Books
on August 1, 2021
Source:
NetGalley
Genres:
Mystery
,
F/F Romance
Pages:
296
Format:
eARC
Purchase at
Bookshop.org
or Purchase at
Amazon
Add on
Goodreads
Lauren Voss has a nice, quiet, orderly life running her grandmother's Heron Bay Resort on the Texas coast. Three years removed from a break-up that left her ex―and her life―behind in San Diego, she's adjusted to the slow pace in Rockport, seeking out neither new friends nor lovers. Vandalism at the resort's clubhouse―and a cryptic message written in blood―brings Detective Harley Shepherd, with her obnoxious Hawaiian shirts, into her life.

A tragedy sent Harley Shepherd running to the sleepy fishing village of Rockport, where violent crime is rare. So different from her life as a homicide detective in a large city, she embraced the quiet and easy-going attitude of the town, determined to put her past behind her.

Was it luck or fate that had her catch a case of simple vandalism? The lovely Lauren Voss made no attempt to hide her dislike of both her―she reminded Lauren of her ex―and her Hawaiian shirts.

Was the vandalism a prank, as Lauren suspects? When a body is found floating near the resort's pier, Harley is convinced it's related. As the formality and animosity between them changes and a friendship forms, the women find themselves growing closer as a killer terrorizes the peaceful town they both now call home.
The romance and mystery in Red Tide at Heron Bay are evenly balanced. Harley Shepherd comes to Heron Bay Resort to investigate a case of vandalism. Lauren Voss is the manager of the resort, which is owned by her grandmother. Even though both women have been living in the town for a while, this is their first meeting. Harley is friendly and casual, but Lauren immediately finds her annoying. Of course, they both have pasts. Lauren had a bad breakup; Harley has come to the small town after an incident when she was a homicide detective in San Antonio.
The mystery was interesting. Of course, the vandalism is just the tip of the iceberg. First a dead bird, then a dead body is found. There's a killer at Heron Bay and Harley will need Lauren's cooperation to find them. The clues were tucked in well and Harley was a competent investigator. Once Lauren realizes the danger, she is reasonable and doesn't take unnecessary risks. The clues are tucked in well, and the suspense is well done.
I found the romance enjoyable. Lauren and Harley make a good couple and the author did a good job moving them from annoyed to attracted. Their interactions were believable and they were likable people. I'm never quite sure though how people manage to do so much flirting and fantasizing while there's an actual murderer on the loose, putting both their lives in danger, but that's what this subgenre is built on.
This is the first Gerri Hill book I've read but I may just have to look up more of her crime/romance books.