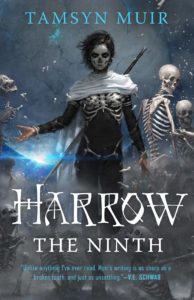 Harrow the Ninth
by
Tamsyn Muir
Narrator:
Moira Quirk
Series:
The Locked Tomb #2
Published by
Recorded Books
on August 4, 2020
Source:
Purchased
Genres:
Fantasy
,
Horror
,
Science Fiction
Length:
19 hrs 51 mins
Pages:
512
Format:
Audiobook
Purchase at
Bookshop.org
or Purchase at
Amazon
Add on
Goodreads
Harrow the Ninth, the sequel to the sensational, USA Today best-selling novel Gideon the Ninth, turns a galaxy inside out as one necromancer struggles to survive the wreckage of herself aboard the emperor's haunted space station.

She answered the emperor's call.

She arrived with her arts, her wits, and her only friend.

In victory, her world has turned to ash.

After rocking the cosmos with her deathly debut, Tamsyn Muir continues the story of the penumbral Ninth House in Harrow the Ninth, a mind-twisting puzzle box of mystery, murder, magic, and mayhem. Nothing is as it seems in the halls of the emperor, and the fate of the galaxy rests on one woman's shoulders.

Harrowhark Nonagesimus, last necromancer of the Ninth House, has been drafted by her emperor to fight an unwinnable war. Side-by-side with a detested rival, Harrow must perfect her skills and become an angel of undeath - but her health is failing, her sword makes her nauseous, and even her mind is threatening to betray her.

Sealed in the Gothic gloom of the emperor's Mithraeum with three unfriendly teachers, hunted by the mad ghost of a murdered planet, Harrow must confront two unwelcome questions: Is somebody trying to kill her? And if they succeeded, would the universe be better off?
First of all Harrow is not an easy read. It's absolutely necessary to read Gideon the Ninth first then take a short break before reading this one. At least, I had to take a break. I tried going from one right into the other and found I wasn't quite ready to immerse in that world again, but maybe that's just me. It's a dark, tense world and the writing style is very distinct, which is both good in the fact that it makes it mysterious and memorable, but also meant I needed a breather.
Harrow has become a lychtor, a superpowerful, immortal magical necromance knight to the Necrolord Prime, the Undying Emperor — we know that — probably. In the present, told in the second person, Harrow is having a tough time. While she is an amazing bone magician, she's finding the process of becoming a true lychtor difficult, if not impossible. Sadly enough, we have no Gideon here, just a Harrow who is less sure of herself than I want her to be. Mixed in with this are parts of the action from the first book, but the events and people are changed, twisted, not what we know/thought happened. I don't know that it's confusing exactly, but you do just need to go along with the story, trust that it's leading somewhere. And then at about 60%, it all pulls together. And then at 98%, it falls apart again, at least for me, but that's part of the hook to pull you along to the next in the series.
The beginning is a bit hard going. First, I missed Gideon's voice. Second, the non-linear timeline and the switches in point of view kept me off balance. But once I settled in, it was a good read. The world is fascinating and I don't quite get all of it yet. The characters – there are a lot of characters, dead, alive, version 1, version 2, a lot of people to keep track of. We did meet most of them in the first book. And locations, real (in that world), less real, non-physical. It can all get rather complicated but in a good way. This is also a middle book, though, and nothing is really wrapped up well at the end. It sounds like I didn't like it, but I did. It was enjoyable and definitely worth the time I put into listening to it. But maybe it didn't quite live up to the first.