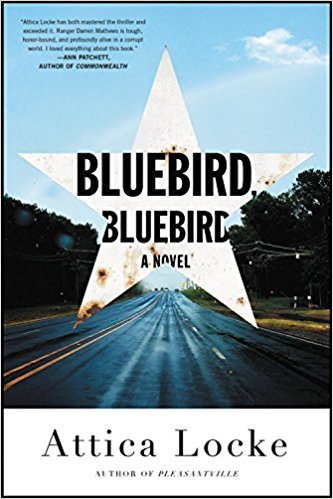 Bluebird, Bluebird
by
Attica Locke
Series:
Highway 59 #1
Published by
Mulholland Books
on September 12, 2017
Source:
NetGalley
Genres:
Mystery
Pages:
307
Format:
eBook
Purchase at
Bookshop.org
or
Audible
Add on
Goodreads
When it comes to law and order, East Texas plays by its own rules--a fact that Darren Mathews, a black Texas Ranger, knows all too well. Deeply ambivalent about growing up black in the lone star state, he was the first in his family to get as far away from Texas as he could. Until duty called him home.

When his allegiance to his roots puts his job in jeopardy, he travels up Highway 59 to the small town of Lark, where two murders--a black lawyer from Chicago and a local white woman--have stirred up a hornet's nest of resentment. Darren must solve the crimes--and save himself in the process--before Lark's long-simmering racial fault lines erupt.

A rural noir suffused with the unique music, color, and nuance of East Texas, Bluebird, Bluebird is an exhilarating, timely novel about the collision of race and justice in America.
Bluebird, Bluebird is not an easy read. It's packed with emotions, thick racial tensions, and family dramas. In Lark, Texas, the racial divisions go back decades, but so do the relationships and the secrets. There have been two recent murders: a black lawyer from Chicago who was found floating in a bayou after being beaten to death, and days later, a twenty-year-old married white woman who worked as a waitress at a roadhouse.
Enter Darren Matthews, a black Texas Ranger, whose life is a bit of a mess. His suspension from the Rangers has been lifted, but only temporarily, pending a grand jury investigation for an unrelated, but not unconnected, event. His marriage is on the rocks and he's drinking too much. And of course, there's the independent streaks that so many fictional detectives have. The sheriff is not happy to have him around, does not want the Rangers or the Feds in his county.
The characters on both sides of the law have complex histories and in a small town there are connections that might not be obvious to an outsider. It's a look at race and family and home. Locke does a fabulous job at bringing the place and characters to life. And it's a good mystery. We have multiple deaths and multiple killers, a couple fairly obvious and one that surprised me.