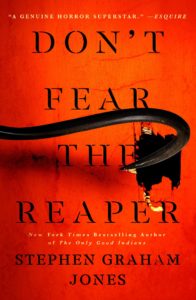 Don't Fear the Reaper
by
Stephen Graham Jones
Narrator:
Isabella Star LaBlanc
,
Jane Levy
,
Alexis Floyd
,
Pete Simonelli
,
Ali Andre Ali
,
Timothy Andres Pabon
,
Marni Penning
,
Dan Bittner
,
Corey Brill
,
Matt Pittenger
,
Jesse Vilinsky
,
Migizi Pensoneau
,
Lee Osorio
,
Gail Shalan
,
Alejandro Antonio Ruiz
,
Angela Goethals
Series:
Indian Lake Trilogy #2
Published by
Simon & Schuster Audio
on February 7, 2023
Source:
Purchased
Genres:
Horror
Length:
15 hrs 4 mins
Pages:
464
Format:
Audiobook
Purchase at
Bookshop.org
or
Audible
Add on
Goodreads
December 12th, 2019, Jade returns to the rural lake town of Proofrock the same day as convicted Indigenous serial killer Dark Mill South escapes into town to complete his revenge killings, in this riveting sequel to My Heart Is a Chainsaw from New York Times bestselling author, Stephen Graham Jones.

Four years after her tumultuous senior year, Jade Daniels is released from prison right before Christmas when her conviction is overturned. But life beyond bars takes a dangerous turn as soon as she returns to Proofrock. Convicted Serial Killer, Dark Mill South, seeking revenge for thirty-eight Dakota men hanged in 1862, escapes from his prison transfer due to a blizzard, just outside of Proofrock, Idaho.

Dark Mill South's Reunion Tour began on December 12th, 2019, a Thursday.

Thirty-six hours and twenty bodies later, on Friday the 13th, it would be over.

Don't Fear the Reaper is the page-turning sequel to My Heart Is a Chainsaw from New York Times bestselling author Stephen Graham Jones.
I am not a Slasher fan. I watch the Scream movies, but that's about it. So, yes, I missed some of the references, but that doesn't diminish my enjoyment. It also didn't make me want to watch more slasher films though. And I rarely read horror. However, I loved the first in this trilogy, My Heart Is a Chainsaw, that I made Amber buy a copy. Don't Fear the Reaper is just as good.
Jade Daniels is our star once again. It's been four years since the Independence Day Massacre, and while this might work as a standalone, knowing the events and characters from the first will definitely make this one richer. Jade and her chosen final girl, Letha, have grown and changed as they've dealt with the consequences. Jade has been in jail and her conviction has just been overturned. Letha is married and has a young daughter. But Jade's back in town, arriving, as is her luck, the same day an escaped serial killer shows up. Proofrock is in the middle of a massive snowstorm – no electricity, no cell service, no outside help – and a killer's on the loose.
The book is bloody and violent. There are a lot of people killed in a lot of ways. It's a little gruesome but it should be.
This time around, we see the action from a lot of viewpoints, almost too many. I listened to the audiobook and you can see above how many narrators there were, but the variety of voices and tones did help me keep track of whose perspective we are seeing the events from. But that also meant that the victims, Jade, the witnesses, all get their say, are all more than just another body. For a story that moves so quick and has so many twists, the characters still get to shine. Or not shine – Dark Mill South is not the only bad guy in Proofrock.
Don't Fear the Reaper is the middle book in a trilogy but was still a self-contained story, which I appreciate. Yes, I'm sure it's setting up the next in the series if only based on who survived this one and I'm anxious to read the finale, but I'm not angry at how it ended. Actually, the ending was perfect, with Jade taking control of her destiny and protecting the people and town she cares about. It's a lot of fun getting there though, if "fun" is the right word.
Reading this book contributed to these challenges: