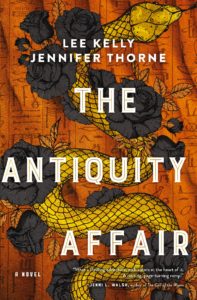 The Antiquity Affair
by
Lee Kelly
,
Jennifer Thorne
Narrator:
Brittany Pressley
,
Holly Linneman
Published by
Harper Muse
on June 6, 2023
Source:
NetGalley
Genres:
Adventure
,
Historical Fiction
Length:
11 hrs 46 mins
Pages:
416
Format:
Audiobook
Purchase at
Bookshop.org
or
Audible
Add on
Goodreads
An archaeologist's estranged daughters.

1907: The dawn of Egyptology is a time of imperialism and plunder, opulence and unrest, and Dr. Warren Ford, esteemed archaeologist, is the man of the hour. His daughters—intellectual Lila, on the eve of her debut as a Manhattan socialite, and nonconformist Tess, who dreams of following in his footsteps—have always lived in his shadow, and their lives couldn't feel more different. But when a secretive organization seeks to find a lost relic legendary for its dangerous power, it isn't Dr. Ford they turn to—it's his two remarkable daughters.

A legendary artifact known as the Serpent's Crown.

Rumored to reside in the mysterious Tomb of the Five Ladies, the Serpent's Crown will only be found by solving a seemingly impossible riddle that will open the tomb—and the organization believes that one of the Ford daughters holds the key to deciphering the code. What was supposed to be an elegant debutante ball for elder sister Lila quickly turns sinister when Tess is kidnapped and put on a ship across the Atlantic. When Lila and her father realize that Tess's life is in danger, they must act quickly to track her down and stop the Serpent's Crown from falling into the wrong hands.

A puzzle three millennia in the making.

A race for the Crown begins, with Lila and her father in hot pursuit of the organization and Tess. With lives at stake, the fractured family must keep their wits about them, find the artifact, and escape the ruthless men who are also determined to possess the Crown and use it to their own advantage—no matter the cost.

In this women-centered nod to the beloved Indiana Jones stories, The Antiquity Affair is a high-stakes, trans-Atlantic thrill ride, with the page-turning excitement and romance of classic adventure novels and a poignant story of sisterhood at its core.
The Antiquity Affair is a fun book. It's got history, action, suspense, family drama, and a bit of romance. Our main characters, sisters Lila and Tess, are wrapped up in a race for the Serpent's Crown, a powerful legendary relic. They have friends and family on their side but of course, there's an evil brotherhood that also wants the crown so they can control Egypt and then, presumably, the world.
I liked Lila and Tess and how they come to understand each other better throughout the book and work on repairing their relationship. Each of the women is capable in her own way and their skills play off each other's well. I listened to the audiobook and having two narrators, one for each of the women, worked out well. I do wish their voices had been a little more different.
The book touches on women's place in society and the questionable ethics of removing historical artifacts from their countries of origin, both topics worth discussing today.
My problem with the book is that while it freely owns being an homage to movies/books like Indiana Jones, for me the parts that took place in the tomb were way too much like some specific scenes from The Last Crusade, just given an Egyptian flair.
Reading this book contributed to these challenges: