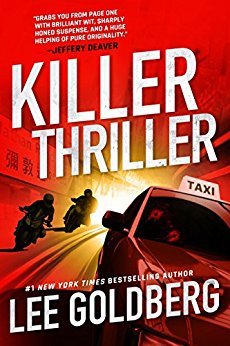 Killer Thriller
by
Lee Goldberg
Narrator:
Adam Verner
Series:
Ian Ludlow Thrillers #2
Published by
Brilliance Audio
on February 12, 2019
Source:
NetGalley
Genres:
Light Thriller
Length:
7 hrs 36 mins
Format:
Audiobook
Purchase at
Bookshop.org
or Purchase at
Amazon
Add on
Goodreads
In #1 New York Times bestselling author Lee Goldberg's action-packed sequel to The Washington Post bestseller True Fiction, a hapless writer is pitted against an enemy nation mounting a treacherous plot lifted from one of his thrillers.

Everybody loves Ian Ludlow's action novels - especially the CIA - because the spies know something the public doesn't: his fictional plots have a frightening tendency to come true. Ian is in Hong Kong with his resourceful assistant Margo French to research his wildest story yet - a deadly global conspiracy by Chinese intelligence to topple the United States.

What Ian doesn't know is that his horrifying scenario is happening and that the Chinese mistakenly believe he's an undercover superspy assigned to foil their scheme. Now Ian is trapped in his own terrifying thriller, on the run from assassins, and racing against time to prevent an epic disaster. He's written himself into a corner that could cost his life...and his country.
I recently read The Secret Agent by Joseph Conrad about spies and violence and politics and it was very good. Killer Thriller is not "good" in the same way, but it is fun and funny and over the top, and it knows it. This is the second in the series and although it works as a stand-alone, the first one is a blast, so I'd read it first.
Ian Ludlow writes cheesy thrillers and one is being turned into a movie. He and his assistant Margo head to Hong Kong to participate in some of the publicity surrounding the shooting and to do some research for the novel he's working on. The problem: once again Ian's plot, although outrageous, is too close to reality for him to be safe. This time, his story's about how the Chinese government is planning a coup of the U.S.A using sleeper agents in high government positions and the surveillance technology that they have hidden in all of our electronics we have purchased. The trouble for Ludlow is this is actually happening and the Chinese government thinks he knows about all their top-secret espionage. So, of course, they need to kill/kidnap him. Happily, Margo has acquired all kinds of lethal skills that help keep them safe until they can uncover the plot and save the world.
Killer Thriller does not take itself too seriously. The situations are ridiculous and dangerous and crazy and funny. It's a great light read. The plot holds together well enough and the characters are all perfect for the story.